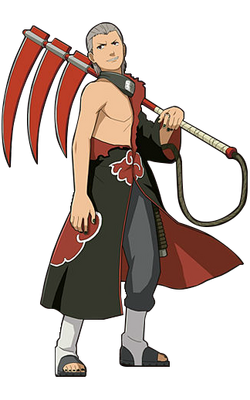 "Akatsuki" member, is characterized by short hair, purple eyes. He also wears dark green nail polish and his orange Akatsuki ring on his left ring finger which bears the kanji for "Three". Hidan has the ability to curse his opponents as long as he acquires their blood and draw a Janshin symbol on the ground with his own blood.
Rating

Details
Type
Ninjutsu
Formation
Assaulter
Force
120

Growth: 2.8

Chakra
120

Growth: 2.6

Agility
120

Growth: 2.7

Power
300

Growth: 2.7

Talent
AGI Talent


Increases Agility by certain percent.

Skill
Immortal Body


Attack the enemy assaulter, growing rate 180%. Decrease enemy attack by 12% for 2 rounds.
Source
1200 Gold Souls in Tavern at Lv.80
Versions