Sasuke
Leader of Team Taka, dressed in white, the guy with Mangekyou Sharigan

Skill / Passive

Passive/Talent
Bloodline Limit
Increases a certain force by percent, naturally has 5% damage rate. (15% Force)
Skill
Lightning Release Kirin
Attack all enemies, growing rate 180%, restore casters hp by 45%

Attributes

Force - 180 (Growth Rate - 2.9)

Agility - 170 (Growth Rate - 2.7)

Chakra - 170 (Growth Rate - 2.2)

Health - 500 (Growth Rate - 3.2)

Requirements

In order to recruit Sasuke you need to acquire:
(Which he will then be available through Ninja Club.)
Rinnegan Sasuke (Upgraded Sasuke)
Sasuke has become the Ultimate Uchiha next to Madara himself.

Skill / Passive

Passive/Talent
Rebirth
Increases a certain force by percent, naturally has 7% damage rate. (15% Force)
Skill
Susanoo
Attack all enemies, growing rate 220%,increase your assaulters aid rate by 60% for 3 rounds, increase HP by 45%.

Attributes

Force - 800 (Growth Rate - 3.8)

Agility - 600 (Growth Rate - 3.6)

Chakra - 600 (Growth Rate - 3.1)

Health - 2000 (Growth Rate - 4.3)

Requirements

In order to upgrade Sasuke you need to acquire:


540/648 Epic Recruit Proofs
1800/2160 Golden Souls
VIP 6/0
Level 110.

The higher amount is if you are under Vip 6
Sasuke Hebi
Leader of Team Taka, dressed in white, the guy with Mangekyou Sharigan

Skill / Passive

Passive/Talent
Bloodline Limit
Increases a certain force by percent, naturally has 5% damage rate. (15% Force)
Skill
Lightning Release Kirin
Attack all enemies, growing rate 180%, restore casters hp by 45%

Attributes

Force - 180 (Growth Rate - 2.9)

Agility - 170 (Growth Rate - 2.7)

Chakra - 170 (Growth Rate - 2.2)

Health - 500 (Growth Rate - 3.2)

Requirements

In order to recruit Sasuke you need to acquire: 
(Which he will then be available through Ninja Club.)
Rinnegan Sasuke (Upgraded Sasuke)
Sasuke has become the Ultimate Uchiha next to Madara himself.

Skill / Passive

Passive/Talent
Rebirth
Increases a certain force by percent, naturally has 7% damage rate. (15% Force)
Skill
Susanoo
Attack all enemies, growing rate 220%,increase your assaulters aid rate by 60% for 3 rounds, increase HP by 45%.

Attributes

Force - 800 (Growth Rate - 3.8)

Agility - 600 (Growth Rate - 3.6)

Chakra - 600 (Growth Rate - 3.1)

Health - 2000 (Growth Rate - 4.3)

Requirements

In order to upgrade Sasuke you need to acquire:


540/648 Epic Recruit Proofs
1800/2160 Golden Souls
VIP 6/0
Level 110.

The higher amount is if you are under Vip 6
Hidden Stats 
Sasuke's hidden stats are always topic of question, especially among new players or those who want to know who is stronger than who, most commonly know as: "Is Rinne Sasuke stronger than Zetsu?" and etc.
Below are two pictures showing the difference between upgraded version of Sasuke and Rinne Sasuke, with the same setup, so gears, accessory, s.weapons and so on.
To begin with though, Zetsu had 3% less Avoid-Injury than Sasuke, while Rinne Sasuke has 7% more Avoid-Injury than his upgraded self, thus R.Sasuke has 10% more Avoid-Injury than Zetsu.
Another surprising fact is the damage rate. For Rinne Sasuke it should be 7% as stated in description of his Talent, but in fact I have noticed that it is 9%, as visible on a pictures below, change from 79.6% to 88.6%, unless it is a visual bug, but that I am not able to define myself.
Besides that Rinne Sasuke comes with 5% hit rate more, 3% dodge, block and crit. rate more than unupgraded Sasuke.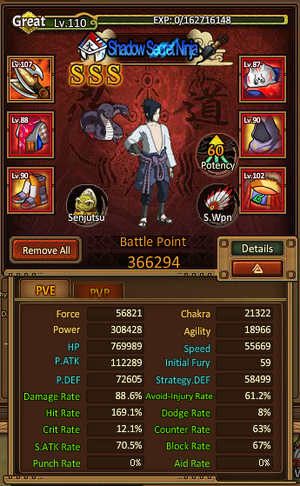 Versions 
Grey Sasuke
Rinnegan Sasuke