Top Kages (7 Shadow Peak / 7 Kage)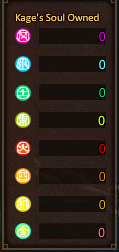 This feature is available at Lv.70.
Players can get Kage's Souls by challenging kages and their underlings.
There are two challenge modes: Solo and Group. First, choose one ninja in the team to have one-on-one fight with the opponent's ninja. Win or lose, you will enter the group fight, but the result will affect you and your enemy's Initial Fury / Rage.
You will gain the qualification to challenge the next kage and receive the corresponding kage's Souls after winning the group fight, but if you fail, you have to restart the solo fight and enter the group fight after winning the solo.
One can only challenge Top Kages a 100 times a day.
Winning the group fight will unlock the next kage. Meanwhile, a ninja star will be unlocked accordingly.
Win a group fight and you can practice with the kage every day and get a small amount of kage's souls.
Fighting all opponents solo can let you avoid morale / fury reduction. In the group fight, a majority of opponents avoid fury reduction and kages avoid fury reduction and control.
Vip 8 can use Auto-practice to gain Souls.
Battle Guide
Ninja Stars